Picked this up from Sussex on Monday night.

I've wanted an early 900 Turbo for ages, and this is the first half decent one that's come up at sensible money - £400 with ten month's test and three and a bit months' rent. It's not perfect - it has a noisy nsf wheel bearing, it splutters a bit at full boost (could be lack of use - the seller had replaced it with a 156 some time ago) and the tailgate is wrong for the age of the car - but it's pretty darn good considering it turns 30 next year.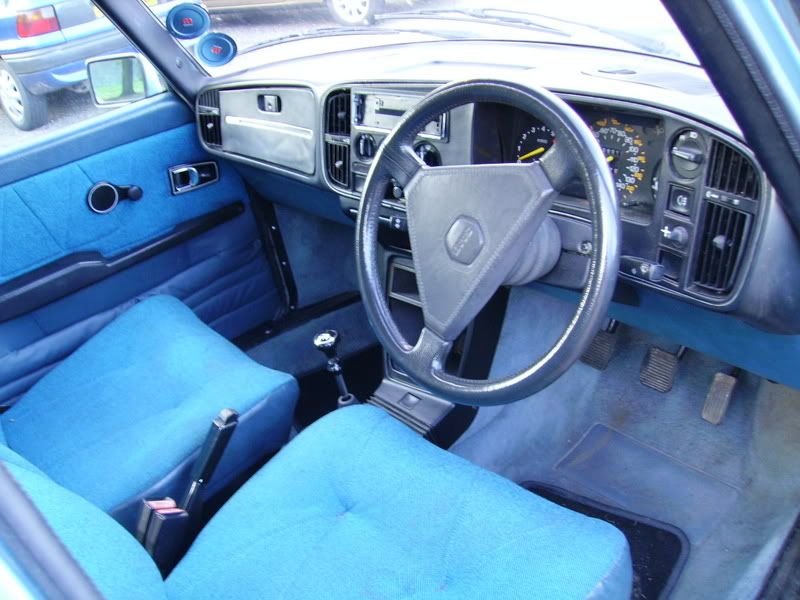 Unfortunately this picture doesn't show quitre how vividly blue the interior is. It's pretty vivid. Being an early 900 it only has a 4-speed box - I was worried that it was going to be revving its nads off on the motorway, but the ratios are quite widely spaced so it's pulling about 2900rpm at 70. The only other drawback is that it has metric wheels, and the rear tyres are getting a bit low - I think replacements may not be cheap.
Also picked this up on Tuesday night, although it's really more shit than shite:
It's a 1.8i LX, so it has the same power output as the early Mk5 XR3i's, but it doesn't feel like it. It's also uncomfortable and the engine sounds horrid. But it was £100 with 9 months' test and a full history (it's done 80K) so fingers crossed there should be a bit of profit to be made there.
I've also bagged myself this:

for £75. Nine months' test, but needs a coil pack and an exhaust down pipe. It runs and drives, although presumably on three cylinders if one of the coil packs is down. I'm going to get it home and see what it's like - I'll either use the brake calipers, tyres and other sundry bits to get my red CSE through its ticket (and swap the interiors over as the grey one has leather) or I'll repair the grey one and use that instead.
And last but not least:

It's driveable apparently, which is a bonus as I've got to pick it up from Southampton. £100 has got to be a bargain though, even with no T&T. Apparently it's got all the fittings and the interior is in good nick.
In other news, I've finally sorted the fuel leak on the R9 (hacked out the offending section of metal pipe and replaced it with rubber hose) and have at last got to drive the old gal. And I have to say I was quite impressed. It needs a bloody good service, and the radiator fan is seized so I won't want to be doing too many traffic jams in it, but it seems to drive well enough, everything feels as it should and, although I haven't caned it yet I did put my foot down briefly in second gear - considering its long period of inactivity and the fact that the O ring seal round the carb air intake is buggered and will be letting some of the boost get away, it accelerated pretty smartly. Next step is to sort the rad fan and then I can start thinking about taking it to get the welding done for its ticket. It's going to be a fun old thing. EVen the trip computer works.